Pulled the plugs recently.
These came with the bike--totally stock. Then I put a TBR exhaust/headers, Unipods and rejetted as follows:
main jets: 165f/160r
Float bowl height: 10mmf/11mmr
Slow jets: 142
2.5 screws out on both
Ran that configuration for about 4000 miles. This is how they came out:
Front and Rear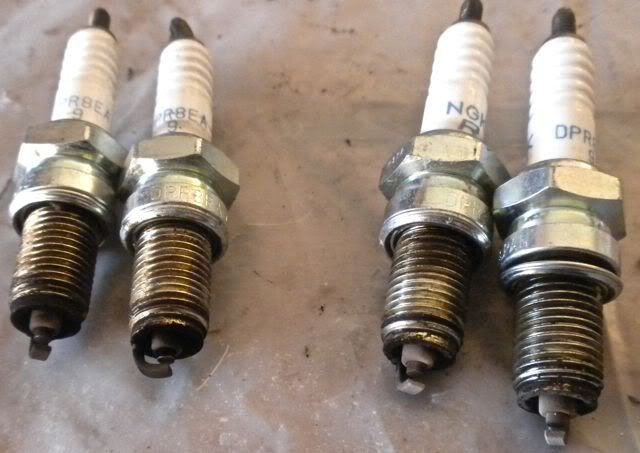 Front only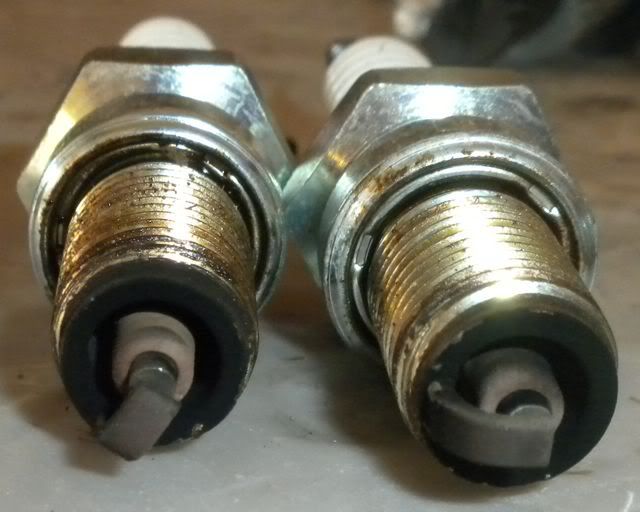 Rear only
So it looks like the front might be a bit rich, and the rear a bit lean. So I rejetted:
150/150
Float bowl height: 9.2mmf/9.3mmr
Slow: 142
2.25 screws out on front
2 out on rear
New iridium plugs
It's been about 800 miles and here are the easy access plugs:
New front
New rear
rear closeup
front closeup
front closeup
So it would seem like the rear is pretty close to good and the front is still running a bit rich.
In regard to power, the switch from 165/160 to 150/150 was very noticeable. The bike just didn't seem to get up and go before, but the more restrictive fuel flow apparently evened out that tendency. There is undoubtedly more tuning to do and that's what I need you for.
Any thoughts? What would you be adjusting?
Thanks