after buying my girfriend a 400 bros and tidying it up for her i got the bug for these great bikes so off i went to fleabay and found myself just what i thought i wanted! a 1989 650 model with the vfr rear wheel converstion and a front end too, it also came with some other nice bits like a full 2 bros exhaust etc!
after a 3 hour drive and a ferry trip later i arrived and took a 1st look at what id agreed to buy!
to say the guy was a little over enthusiastic about the condition of his bike was not what i would have suggested! more like he had used the pictures of when he had 1st bought the bike and basically lied about the over all condition of the bike!
now i could of told him there and then to shove it but i decided to be polite, have a listen to it and make him a more sensible offer which he agreed was fair! seeing as the bike had broken body work, 2 ex track tyres fitted, and basically the worst modifications as you will see with the pics to follow!
here is his fuel pump/reg,rectifier repositioning mod!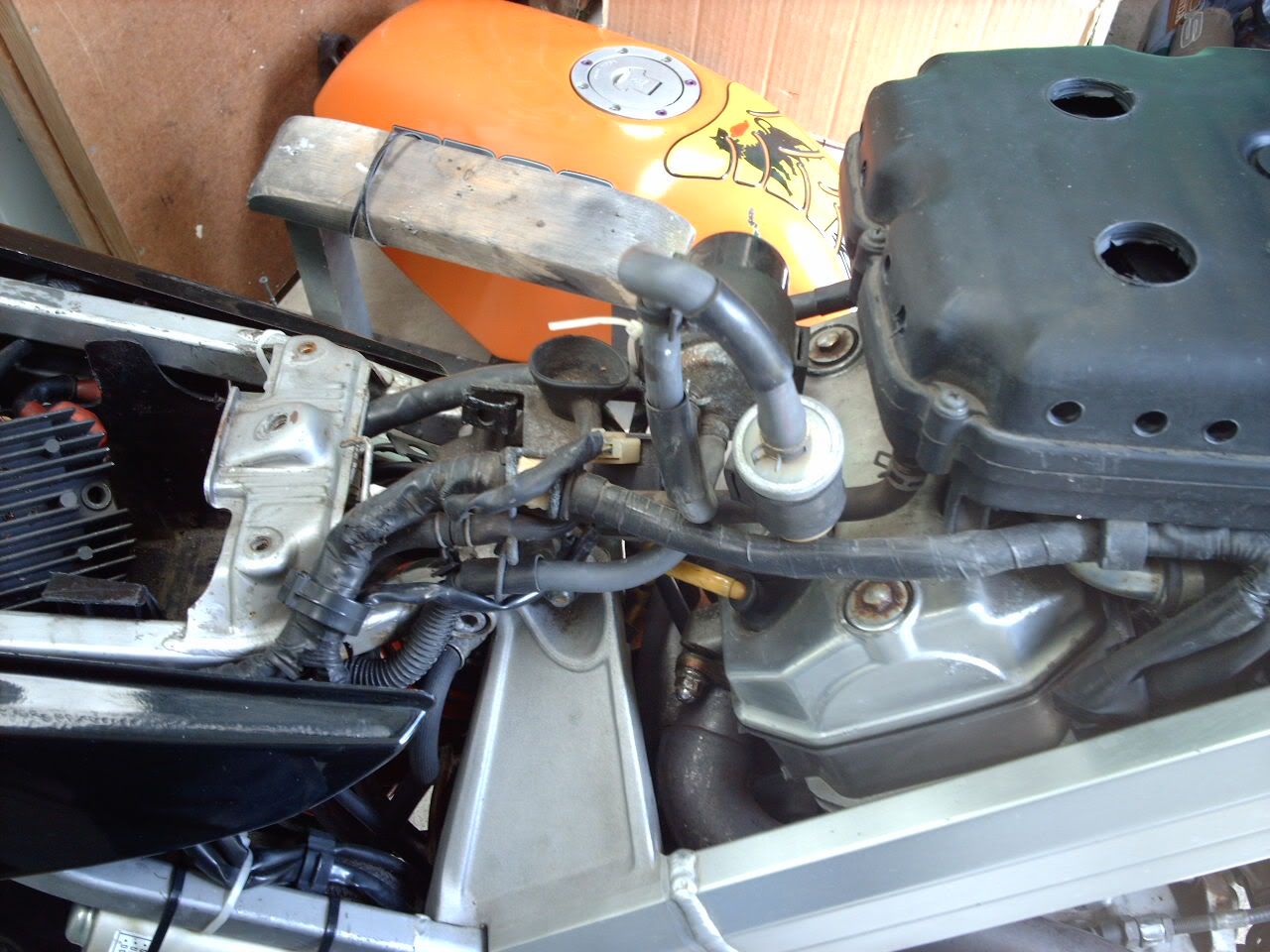 this is the vfr 750 front end, with a bros yoke(triple tree) as you can see the spindle mark wont line up as the vfr yokes are wider! he had referbed the ''as he called them'' (gold nissan) calipers, but the disks were scrap and the front wheel had bad rim damaged so that was scrap too! so i managed to sell the forks and calipers and actually financed a f2 front end complete!
now the really bad stuff!
wanna run a 190 rear tyre? fed up with it rubbing the swing arm? then use an angle grinder! yes this swinger has been butchered!
one of the mods he was really proud of was his nc30 speedo drive converstion! as the vfr 750 front end didnt have a drive, he had an idea of driving the speedo off the front sprocket! on the side of the gear lever case was a speedo drive from an nc this was bolted onto a spacer he had cast from epoxy mixed with flour
! to which i was informed was driven by a nut welded on the end of the countershaft! take a look at what i found!
you couldnt remove the sprocket as the weld had spilled over the end of the shaft but after 4 hours and many wheels of grinding with a dremmel i managed to save the shaft! i couldnt work out why he could only get one bolt in the sprocket retainer and tack welded it on? heres why!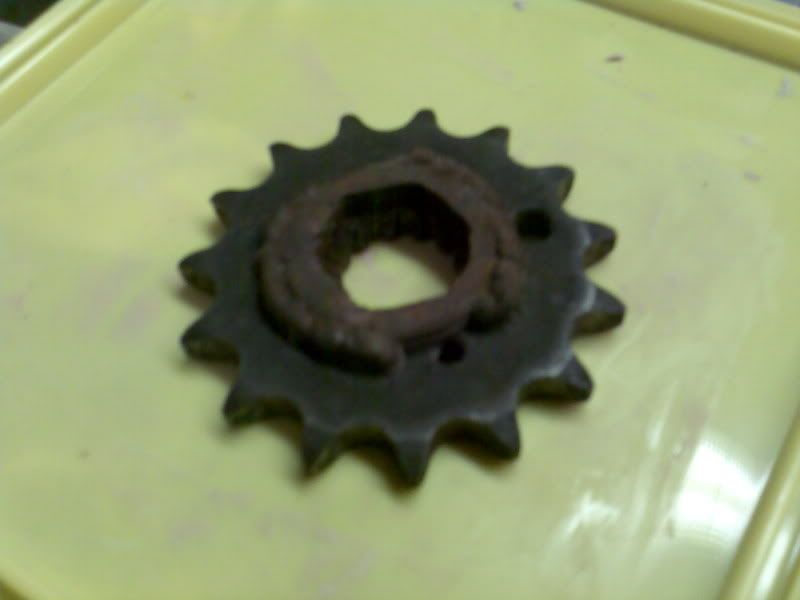 if any one has any idea why you would want to weld(i use the word WELD losely!) something like that on the back of your sprocket please enlighten me!
I took the bike on because i do actually like playing with spanners! im just stunned on how bad this guys modifications could be and he still rode the thing and it never killed him!
i have lost count of the number of zip ties ive removed that were used instead of bolts etc!
anyway thats the story so far, hope its kept you amused for a while and watch this space to see this poor dog of a bike rise out of my workshop as a fully faired road legal track day weapon!
cheers
Robs