I have an junky 88 hawk that I got with a seized engine. I "unseized" it with help from several of you guys and I finally got the motor out and the top end torn down. The front cylinder took all of the abuse. Here is a crappy pic of the front cylinder with all the scrapes and the piston with the marks on the skirt. More piston damage on the other side of it. The scrapes are maybe up to a mm deep in the cylinder. Basically trash.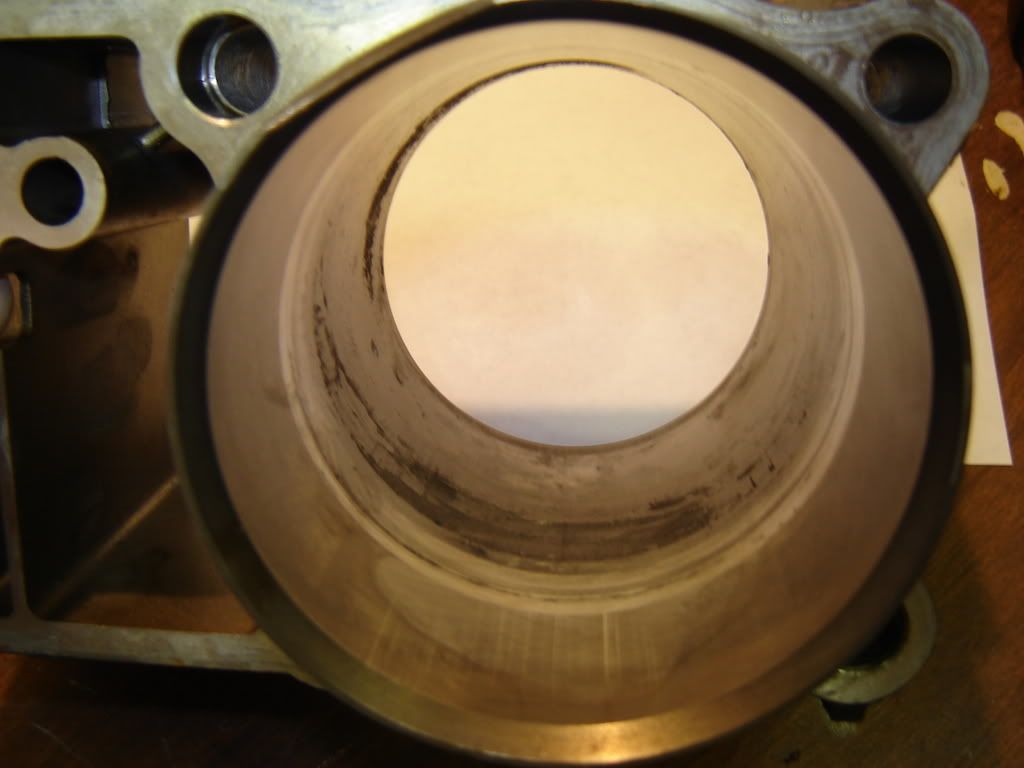 The back cylinder and piston appears to me to be fine. Motor has 17K on it. My best guess is someone tried to get it running after sitting for 7 years and the carbs where a gummy mess I guess maybe the front worse than the back. They actually got it running somehow. The front was running way lean and it overheated. The carbs had some very questionable pilot/idle screw adjustments that might support this.
I guess my first question is do you think the bottom end could be ok? Doesn't look like any shrapnel went down there. There is some end play on the con rods if I move them side to side parallel to the wrist pin centerline, less than a mm on the back and a little more on the front. No other play. Not sure if there is anything else I can do to test the rod bearings or whatever without splitting the case. I am hoping to avoid that.
My current plan is to ebay a front cylinder, get a new 647 piston and put new rings on both. Use new gaskets and put the whole thing back together and see how that goes. Pretty ghetto, but worth a shot? The other option is to go ahead and bore it out and get some 663 pistons and go that route, but will be more money of course. I am trying to do it as cheap as possible just to limit the amount of money I am going to potentially throw away
.
Any other tips on rebuild, like should I get new dowel pins? What to grease up for the restart. Any tips to get the cam sprockets setup at the right place in orientation to the crank?
Of course all of this work has not stopped us from riding it. This is my brother on it after we got the motor out. May be the lightest hawk ever ridden
.