I am a rookie at carb tuning. See if any of you guys can steer me in the right direction. I rebuilt the carbs ( among other things ) on a bike that has been out of operation for many years. It is running, but not well. I pulled the plugs and...
back plugs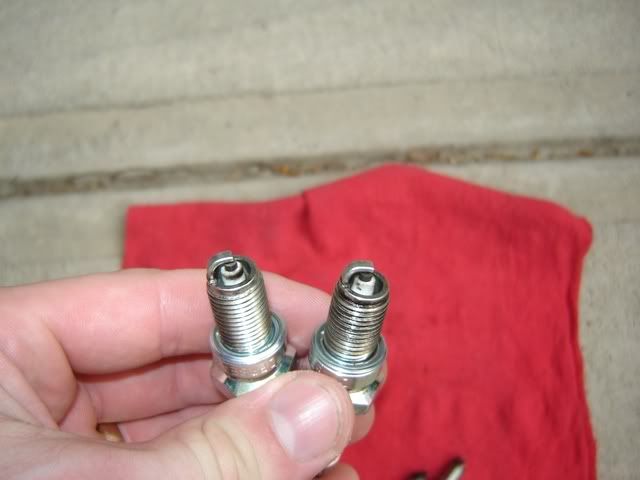 front plugs
hmmmmm.... something is whacked. Here are some points on what I have done, let me know what you guys think. I appreciate any tips.
- top end has just been rebuilt too
- stock everything ( jets, slider springs, airbox, exhaust )
- I believe I did a fairly good job cleaning the carbs, torn them down did the spray down and soaked in carb cleaner for a day or so. There was a lot of varnished gas in them. I *think* I hit everything.
- carbs were initially set to the manual spec for an 88 2 1/8 out, but have been run some as "in" as 1 1/2. Mostly around 2 I would say.
- It has probably run a total of about 15 mins only on center stand. Max rpm maybe 3500, but most running was around 2000.
- mostly smokes light grey when running
- at one point I had one of the back plug wires disconnected accidentally and it was arching to the frame.