So I've got as far as I can on the carbs and parked that till some new bits arrive.
Decided next to attack the rear wheel which proved reasonably straight forward until it came to the move it this way and then that way manual explanation to get it clear of the bike. Did it F…, after a few shimmies here and a few there, I just took the silencer off and off she came.
No probs thinks me, time to get the eccentric off to look at the Cush drive and bearings.
The manual says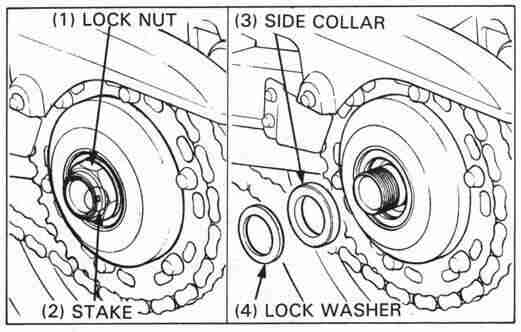 Unstake the eccentric bearing carrier lock nut and remove the nut"
Well that's got to be the biggest nut I've ever seen and I've never unstaked anything !
I am guessing it means lifting the tab that's flattened into the locknut so it can rotate. My local Halfords didn't have anything close so I'll have to wait till my ordered one turns up but I'm thinking it'll be an entertaining ride.
This bike as a project makes me smile.
I cleaned up and went for a 10 mile run in the rain but if anyone has any salient pieces of advice for the next bit, (eccentric removal) then work away, I'm all ears. Yep I've read some forum posts so not being totally lazy like.
Marky Mark