Hello HawkGT FORUM!!
My name is Michael and I am a full time student of Mechanical Engineering and Japanese at Fresno State University. I have dreamed of owning a Hawk GT ever since my buddie told me about it earlier this year.
I am proud to say that I have now been a motorcyclist for a full year now
My friend has owned a Ducati Monster ever since we finished H.S. and he kept telling me to "Get outta the cage and on a bike" and I finally got the chance last Nov. ('05) when I got my motorcycle permit and purchased a 1993 Suzuki GS500E with just 11k miles.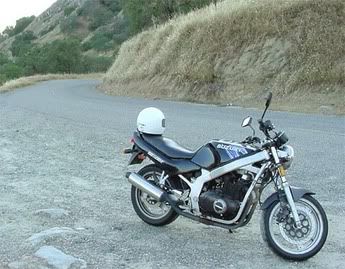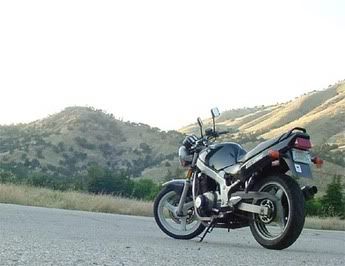 I got my full licence a couple of months later and since then I've mastered what little riding skill I have with the GS500 and I am getting ready to make the next step, which of course will be on a Hawk GT650!
I plan on purchasing a low mileaged (8-15k) bone-stock Hawk GT sometime this winter/spring. The Suzuki has done very well for me and I am glad to have learned the ropes on it. I've never dropped it and I love to run it up on my favorite mountain hills that I used to drive my Supercharged MR2 on (see my homepage).
Here is a picture of my 1987 MR2 during an Autocross event about 4 years ago. I retired the MR2 two years ago and it is currently serving as a flower planter :cry: I had imported a Supercharged engine from Japan and put on a larger Toyota SC unit from a Previa Van, and with my first homemade water/alcohol system, it developed 280 HP @ 17.5 psi in its day. Not too shabby from 1.6 liters in a car that only weighed ~2300lbs.
Currently, besides my bike, my other mode of transportation is my 1981 Toyota Hilux shortbed pickup:
These and other pictures of it may be found on my myspace at
http://www.myspace.com/husoku
The key ingredients are a Supercharged 1995 2.7l Tacoma engine, Triple Marlin Crawler T/cases with a single 4.70:1 gear set (low range is 510:1), 37" Pitbull ROCKERs, Electric Toyota Lockers F/R with High pinion in the front, chromo axles all around, and Marlin Crawler 4" USA Suspension and DOM body armor.
The truck is straight up wicked and fun to drive around town with 200 HP & 250 TQ outta the 4 cylinder, but when the Suzuki makes 50 MPG, I just can't ignore it. Plus I save nearly 10 mins on average thanks to lane splitting and getting to cruising speed instantly on my commute to college every day.
Well, that's the long version of my introduction. I'm not sure if anyone here knows about Marlin Crawler Inc or not, but if so, then you'll recognize me as Marlin's son and the website and forum admin at
http://www.marlincrawler.com
.
As for the Hawk that I am looking for, the one in the For Sale Section from Colorado Springs with 8800 miles is pretty much exactly what I am looking for, however I will not be ready (financially) until at least March.
I am definitely interested in meeting everyone here and learning more about the Hawk so I can make sure that the one I buy will give me many excellent years of use and love
Merry Christmas
BigMike