I came to the realization that despite having two bikes and sharing a third with my brother, it's not really the right combo. By all logic we should be getting rid of our first bike, a Suzuki GZ250, but we haven't. It's the only one he has even partial ownership in, and I know that selling it would be his excuse to never ride again because he's a wuss like that.
But I have two of my own, and that's just not enough.
I have the fun around town bike:
and the project bike:
but neither of those works as a tourer. I really want to be able to go across country on a motorcycle. The idea of doing it on the Hawk is kinda cool, but no wind protection would get really tiring at 75mph, not to mention it has no provisions for hard luggage (not that I couldn't fab that up), so it's not the ideal long range bike.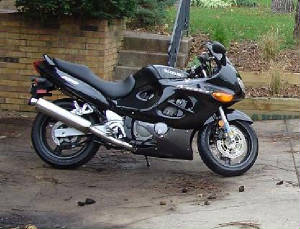 That's about all I'd need. My friend actually has a Katana 600, and dimensionally it's a perfect fit for me, but I dunno if it'd rev low enough on the freeways while having enough torque in the mountains. It's a great bike though. I've put maybe 500 miles on it and it felt good at speed, but was annoying in town because it has a jumpy off idle throttle takeup.
Anyway,
how many types of bikes do you need to live?
I think those three would be about perfect.