Holly shit. . . So.
Last night was a GREAT night.
69Falcon
came to the track, racing with your best friend is always better than racing without. Couple guys that work with/for me came to watch and our neighbors from up the street Lenny and Jan also came.
Listen, i finished the night with an epic wheelie over the line trying to win a drag race for the #1 spot. That's a good night no matter what.
The bike was awesome. Chuck and i had long conversations over a lb or two of air in either direction.. When that happens, the bike is good. We ended the night with the gauge that reads the highest reading 11lbs. So there was probably closer to 9 in there.
Ok, we had big grids. at one point we had 7 dudes in a single heat. Luckily they ran us staggered (they stagger off of points) cause you can not launch 7 of these fucking things side by side.
First heat was reasonably uneventful. Kinda boring. Went into turn 1 in second, neil went down i think in lap 2 and i brought it home.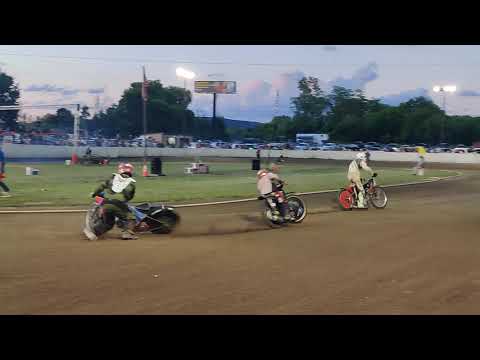 Second heat was more interesting, but less great of an outcome. So, with these staggered races they sometimes (i haven't figured out why only sometimes.. .or when) extend them to 6 laps. Well, i did not realize that. I raced a good race, fought for the lead, and when i thought the race was over i pulled off. I was incorrect. I tried to re join, ended up running down and catching my friend Neil, then i hit Neil and rag dolled the shit out myself. Shit happens.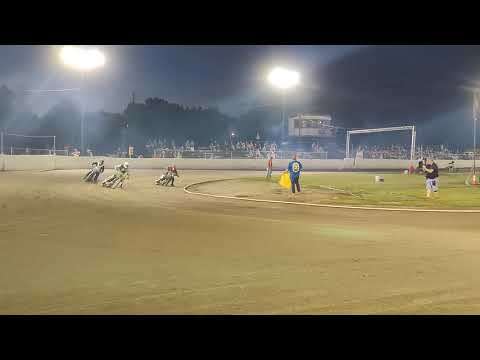 It was still a great race!
Semis, uneventful. 4 person race, i came out of t1 in 3rd, caught and passed two dudes, kept the lead for the win. Oh... And my muffler fell off. I noticed this right when i pulled on to the track. The WORST time to notice it, cause i'm racing anyway. I just dragged it along.
Main:
I raced a good race, got out front, held the lead. But i had no muffler (remember how it riped off?) Usually i can hear someone coming up behind me... Well i could not. I didnt hear anyone, After i got the lead i dropped my pace a bit (maybe a good bit) to just ride safe and bring it home..
Well, someone was there. On the last lap Calib came under me in 2, passed me into 3 but then lost his drive a little in 4. As you can see, i decided to try and see if i could drag race him to the flag.... Epic wheelie ensued for second.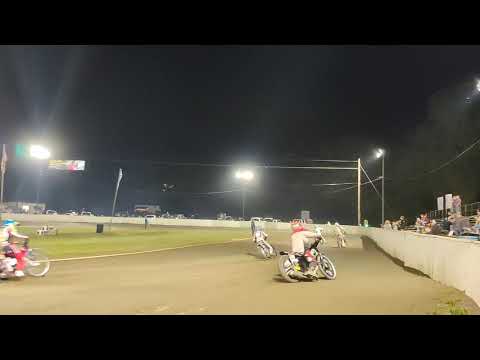 What a fun night. Cant wait to go back racing. I'm waiting on a text now to see if i can practice today. I'm really, really fucking sore. like sore, sore. That rag dolling in Heat 2 was a total shit whipping, then i still had to race two more races to run. But yo, I'm starting to turn a corner on these vicious little killers they call bikes.
God damn do they want to kill you. Really bad. These bikes want to kill you really, really bad. Its like being a mouse riding a feral cat.