First practice:
Last year I missed the last race because the bike was backfiring and popping after it got hot. Jason guessed ignition, found a used one in Europe somewhere (big downfall to racing Speedway... no parts over here). Popped the new one in and hoped. I can't get it hot here at home, so I couldn't test it here .
Got to the track sat with my fingers crossed and...
Well... He was correct!!! Bike runs like a top.
First practice was sat and the bike ran well. Not going to lie.. The motor doesn't have the compression that it had when I first got it, it's getting a little tired but hey... Took me couple seasons before I learned to even get to full throttle out there. So...
Anyway, here is a fun practice video with a crash.. I didn't string together a whole lap all day sat. but I got some good corners strung together here and there and a couple good starts. No good laps but those are the second set of the season.
Oh.... Kristen was being followed around by a little kid. He decided he was going to be in my pit. I was the first Speedway bike out, so little dude was fascinated. Kept saying "that guys crazy, that guys crazy" so you can hear her talking to him while she films.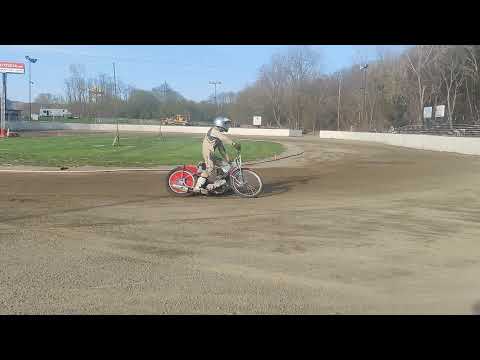 Bike runs great. Everything else is wrong with ht, but the bike runs great.
Sunday practice went way better. Got two laps strung together at the end of the day that where really good laps.. don't have them on vid. Just a picture going on the track and one going off because she didn't realize it was on photo not video.
I didn't have to do much more than breath the throttle for 8 corners. Hope first race I can still do that, because this may be the last practice.
Bike needs:
Oil drain stripped
Air filter fubared
Seat bracket
Massive oil leak from timing cover
Throttle sticking
Front tube leaking
Rear valve core leaking
Foot peg bent, bent...
Suspension bands cracked
Fender bolt missing
Rear fender cracked
Grips passed their useful prime
and that's just from memory. So bike runs well, everything else is wrong.
Speedway here we come...